The 2015-2016 Season "VOICES of Bucks County"
Mothers, daughters, fathers & sons love this inter-generational experience!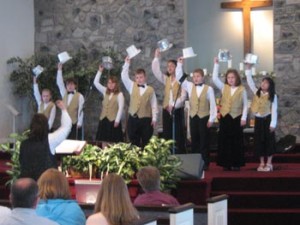 The VOICES of Bucks County and VOICES jr both provide singers with practical performing experiences. Bring your voice and prepare for fun!
Preseason rehearsals begin in August, however, singers may join at anytime with conductor's permission. Repertoire includes classical music, show music, jazz and multicultural pieces. (All singers audition for placement.)
This year's performances will include a "Tribute To Our Veterans" available year-round , a Holiday Program in December and A Cabaret Show, a Spring Classical Concert and our Annual "Meatballs & Music" Dinner Show. (Performances raise money for BCPAI Scholarships.)
Concert Attire is required for everyone. Call office for details. Conductor: Wendy Hollenbach Hellyer, B.A., M.A., Voice, plus guest conductors.
VOICES of Bucks County (Teens/Adults)
VOICES of Bucks County is ideal for those who want a stimulating music experience. Opportunities abound for singers to gain poise and performance experience in solos, duos, and small ensembles.
09/14/15 – 06/6/16 —Mondays: 7:30-9:30 pm*


VOICES jr
(Ages 8 – 14 unchanged voice)
VOICES jr is excellent  for children who love to sing and wish to further develop their musical skills and opportunities to perform. Perfect for those who want something more challenging than their local school and especially valuable for home-school children or those who attend schools that have no choral program. Music includes 'Pops', show music, multi-cultural and classical repertoire. Auditions: by appointment.
After-School Schedule! (36 weeks) Tuesdays: 4:00 – 6:00 pm  –  9/16/15- 6/7/16

Transportation options and financial assistance may be available thru the Bucks County Performing Arts Institute. Call office for details.
Voice Lessons
Private Lessons Available Throughout The Year
Weekly, Monthly or Semester Payment Options
Private lessons with a specialist who can instruct the student in the technical skills and nuances of their voice, will exceed the scope of any general music program. Private lessons may be started at any time.
*"Special Arrangement"
Development Classes            
Voice students are asked to take a Musicianship Class and sing with VOICES of Bucks County (see above.) or Vocal Coaching, where they get opportunities to develop and apply their performing skills.  (Click here for musicianship.)
 Instrumental students benefit by taking Musicianship class and a playing in a Performance Ensemble. (Click here.)
Vocal Coaching
Polish your vocal style by singing show music, standards and jazz clasics! Learn phrasing, microphone techniques and shading from a professionals. The perfect addition to voice lessons! Class meets the 2nd Friday of each month. (6-8PM)
(Four 2 hr sessions each semester.)
FAll:10/9,11/13,12/11,1/8
Spring: 2/12,3/11,4/8,5/13
Instructors:Hellyer/Guest & Artists

Group Voice Lessons!
Here's a less expensive way to study music!
Note: Group Lessons work best for beginners starting together!
60 Min. Classes  (Min. 3 in a class.)